Arctic cold in the deep south
A winter weather advisory has been issued for North and Central Georgia for Thursday from noon until around midnight. Light snow will provide anywhere from a light dusting to about 1/4" accumulation in most areas. We have a 60% chance of flurries or snow showers.
WSB Meteorologist Kirk Mellish's Exclusive 5-day Forecast
TODAY...POLAR SUNSHINE HIGH around 37 LOWS 19-25

THURSDAY...TURNING MOSTLY CLOUDY WITH A 60% CHANCE OF DRIZZLE AND LIGHT SNOW OR FLURRIES LATE AFTERNOON AND EARLY NIGHT (40% CHANCE ITS DRY) Accumulation tomorrow evening: just a dusting to a quarter inch accumulation most probable amount for the Metro with isolated half to one inch amounts possible, 2 inches possible mountains.THIS COULD CHANGE Estimated timing: broad 3pm-1am best 4:30p-10:30pm HIGHS 37-42 LOWS 17

FRIDAY...MOSTLY TO PARTLY CLOUDY WINDY AND BITTER COLD WITH A FEW PASSING FLAKES POSSIBLE HIGH ONLY 32 LOWS 13-18

WEEKEND OUTLOOK...PARTLY CLOUDY SAT SUNNY SUN. WINDY AND SERIOUSLY COLD HIGHS ONLY 29-34 LOWS 10-19
The problem is that the temperaure is actually expected to warm up just enough that light drizzle is predicted for the morning. Then once everything is good a wet, the temperatures will drop and change the rain to sleet or slow. This is a good recipe for ice.
Atlanta road crews are already salting and sanding some roadways where the potential for ice formation is high. Some school districts in the northern regions are already planning for early release to get everyone home before teh bad weather starts.
The entire Southland from Georgia to central Texas has been trapped in unusually cold weatehr all week. Driving from Austin, TX Monday, the highest temperature I noticed during the entire trip was 35 degrees in Dallas. Fron then on as I drove east the temperature steadily dropped eventually reaching the lower 20's by the time I got into Atlanta. We have had a low temperature of 17 degrees F for the past 4 mornings.
I thought I lived in the south?!?!
Hard freeze warnings are in place for southern Geaorgia and northern Florida. Wnter weather is expected from Pennsylvania all the way to southern Mississippi and west to Houston.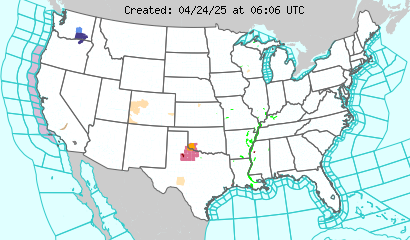 Graphic courtesy of the National Weather Service