Central American deaths continue to rise due to Agatha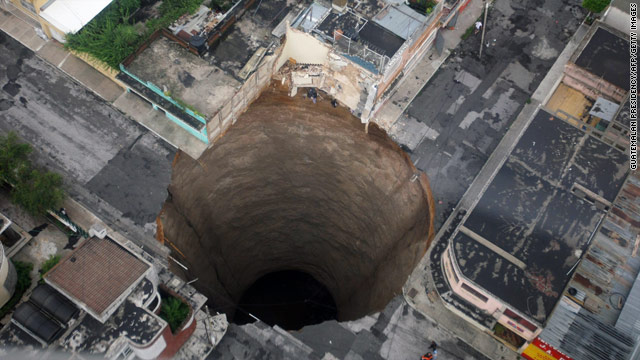 Photo: Giant sinkhole in Guatemala City Courtesy CNN: The office of Guatemala's president handed out this aerial view of a crater that opened up after Agatha hit.
The death toll from Tropical Storm Agatha has continued to rise across the northern part of Central America. Guatemala was the hardest hit and people also perished in El Salvador and Honduras.
Tropical storm leaves more than 115 dead in Central America
(CNN)
At least 115 people have died after a tropical storm battered Guatemala, Honduras and El Salvador over the weekend, officials in those countries reported.

Guatemala was hit hardest, with at least 92 deaths, 54 people missing and 59 injured, emergency officials said. Nearly 112,000 people have been evacuated and more than 29,000 are living in temporary shelters, Guatemalan President Alvaro Colom said in an address to the nation late Sunday.

The devastation has been widespread throughout Guatemala with mudslides destroying homes and buildings and burying some victims. At least nine rivers
have dramatically higher levels and 13 bridges have collapsed, the nation's emergency services said.

In the northern part of Guatemala City, the downpour created a giant sinkhole that swallowed up a space larger than the area of a street intersection. Residents told CNN that a three-story building and a house fell into the hole.

--snip--

In Honduras, where 14 people have died, President Porfirio Lobo declared a state of emergency Sunday.

Nearly 3,500 people have been evacuated from their homes and nearly 3,300 are living in shelters, the Honduran emergency agency said Monday. More than 140 homes have been destroyed and another 700 have been damaged, the Permanent Commission for Emergencies reported.

The situation in El Salvador, where nine people died, was improving Monday, officials said. The rain stopped Sunday afternoon and river levels were beginning to diminish, officials said. Classes nationwide remained canceled, however, until further notice.

More rain was possibly forecast for Monday, though, and Salvadoran officials said they were closely monitoring the situation.

The remnants of Agatha were just entering the western Caribbean Sea Sunday. Heavy rain from this storm system is expected across the southeastern Gulf of Mexico, western Caribbean and into Florida by mid-week. The system is not expected to organize, however, due to strong wind shear through the region.