Downpours Caused by Songda Flood Parts of Philippines
Thousands evacuated after typhoon flooding
(www.gulfnews.com)

Image Credit: AFP
Manila: Thousands of families are being evacuated and hundreds are stranded in southern Luzon while streets in Metro Manila are flooded as Typhoon Songda (known as Chedeng) brought heavy rains last night, officials said.
"We are evacuating 49,893 families from coastal areas for two days," Governor Jose Salceda of Albay, in southern Luzon's Bicol, said in a radio interview."



Volcanic debris

Families living at the foot of the Mayon Volcano in Albay will also be evacuated, said Salceda, adding that thousands could lose their homes when heavy rain sends volcanic debris down the slopes of the active volcano.
NASA sees Tropical Storm Songda singing of rain and gusty winds for the Philippines
(www.escience news.com)
Warm sea surface temp and low wind shear enable Songda to strengthen as it curves North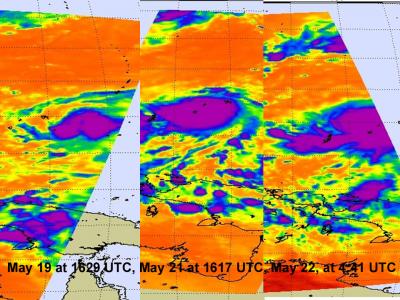 "The series of three infra red images shows the strengthening of Tropical Storm Songda over the
period
may 19-22
, 2011. Notice that the area with the strongest convection (purple) has expanded over that time. That area has the coldest, highest thunderstorm cloud tops neat -63F/-52C, and heaviest rainfall. Over those four days Songda took on a more rounded shape."
Image (above/below) Courtesy of: NASA/JPL, Ed Olsen

--Snip--

"Typhoon Songda was east of the Philippines when the Tropical Rainfall Measuring Mission (TRMM) satellite had an early evening view on

May 25,

2011 at 0903 UTC (05:03 EDT) and saw good organization within the storm and heavy rainfall.

Both TRMM's Microwave Imager (TMI) and Precipitation Radar (PR) instruments were used to provide the rainfall analysis. TRMM's TMI had the best coverage of rainfall with Songda and showed well organized bands of moderate to heavy rainfall converging into the typhoon. TRMM is managed by both NASA and the Japanese Space Agency, JAXA.
"
Infrared imagery from the Atmospheric Infrared Sounder (AIRS) instrument on NASA's Aqua satellite showed an eye about 12 nautical miles wide and strong convection surrounding the eye on all sides. Songda intensified over the over the last 12 hours because of very warm sea surface temperatures between 30 and 31 Celsius, and low wind shear.
Cat 4 Typhoon Chedeng Moves Away from Bikol
(www.voxbikol.com)
"Naga City (May 26, 2011 5:00 A.M.) - Typhoon Chedeng might have just spared the country from its wrath as it now moves almost directly northward away from the Bikol region, even as it has been upgraded to a Category 4 typhoon with average center wind of 215 kph and gustiness up to 260 kph.
Chedeng's generally northward direction suggests that it may remain at sea until it exits the Philippine Area of Responsibility (PAR) on Saturday evening."
Image Courtesy of: typhoon2000.com