Hurricane Paloma has increased in intensity reaching cat 4 status. The storm is battering central Cuba this morning (Saturday) and will be heading for the Bahamas once it re-enters the Caribbean Sea.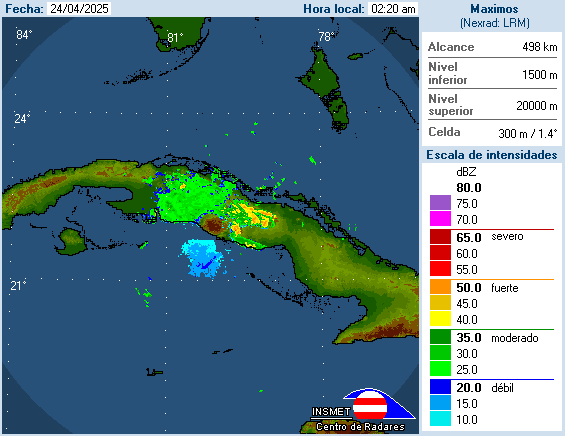 Instituto de Meteorologia de la Republica de Cuba
Se recomienda prestar la mayor atención a la evolución y futura trayectoria del Huracán Paloma y a seguir las orientaciones de la Defensa Civil en las provincias centrales y orientales, especialmente desde la provincia de Sancti-Spíritus hasta Las Tunas, debido a la amenaza del huracán ùPalomaù, el que comenzará a afectar a esa zona hoy sábado por la noche.

Translation by Google Translate:

It is recommended to give greater attention to the evolution and future trajectory of Hurricane Paloma and to follow the guidelines of the Civil Defense in the central and eastern provinces, especially from the province of Sancti Spiritus-up to Las Tunas, due to the threat of Hurricane ùPalomaù, which will begin to affect the area today, Saturday night.

Aviso de Ciclón Tropical.
Centro de Pronósticos, INSMET.
Fecha: 8 de Noviembre de 2008 Hora: 6:00 AM.

AVISO DE CICLON TROPICAL No 12.