Super Typhoon Loses Strength as it Approaches Japan
Super typhoon churns through Pacific, threatens Okinawa
(www.cnn.com)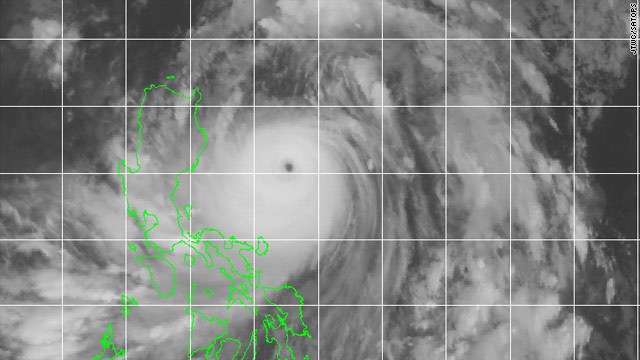 Image courtesy of CNN
Super Typhoon Songda ripped across the western Pacific on Thursday, dropping heavy rain on the Philippines and threatening Okinawa and the Japanese main islands with rain and damaging winds into the weekend.

Songda was a Category 5 storm late Thursday, with maximum sustained winds of 161 mph and gusts of 195 mph, according to the Joint Typhoon Warning Center in Pearl Harbor, Hawaii. The storm was producing wave heights of 38 feet in the Pacific, forecasters said.

The forecast track for Songda put it over Okinawa on Saturday night as a Category 2 storm, with maximum sustained winds of 109 mph and gusts up 132 mph.

Okinawa is home to several U.S. military installations, including Kadena Air Base, home to nearly 18,000 Americans, and Camp Courtney, home of the III Marine Expeditionary Force and its 16,000 Marines, according to U.S. Forces Japan.

The Japan Meteorological Agency said Songda would lose strength but still be a strong storm as it approaches the country's main islands Sunday.

A dip in the jet stream was forecast to weaken Songda and push it toward the northeast and away from Taiwan and China, CNN meteorologist Brandon Miller said.
Meanwhile, residents of Okinawa are gearing up for the approaching typhoon.
Japans Nansei may shut refinery due to typhoon
Japanese refiner Nansei Sekiyu KK, wholly owned by Brazil's state-run Petrobras , said it would decide on Saturday whether to shut its 100,000 barrels per day Nishihara refinery in Okinawa, southwestern Japan, due to a typhoon.

Typhoon Songda is headed directly to Okinawa with strong winds, a Nansei Sekiyu spokesman said.

Japanese maritime authorities have instructed Nansei to suspend berthing operations from 9 a.m. (0000 GMT) on Saturday, the spokesman added. (Reporting by Osamu Tsukimori; Editing by
As typhoon approaches Okinawa, military readies alcohol ban
CAMP FOSTER, Okinawa — Airmen and Marines on Okinawa are banned from drinking alcohol this weekend if and when incoming Super Typhoon Songda nears the island, according to both services.

The ban goes into effect when the storm is within 12 hours of making landfall and the military announces a Tropical Cyclone Condition of Readiness 1 warning level, which was expected to occur sometime Saturday afternoon.

--Snip--

In a prepared statement Thursday, the 18th Wing commander, Brig. Gen. Ken Wilsbach, said typhoons "can pose a significant challenge to military operations on Okinawa — a challenge that requires complete readiness of personnel to prepare for a storm's arrival and to resume full operations after a storm passes."

All active-duty servicemembers are covered by the alcohol ban, including those people on leave and those on TDY who are awaiting transportation.

Civilians are not covered but are "encouraged to refrain from alcohol consumption" during the storm.

The alcohol ban will remain in effect until Songda passes and the military declares the situation all clear, according to Wilsbach's announcement.