Typhoon Lupit slowing down as it aopproaches Luzon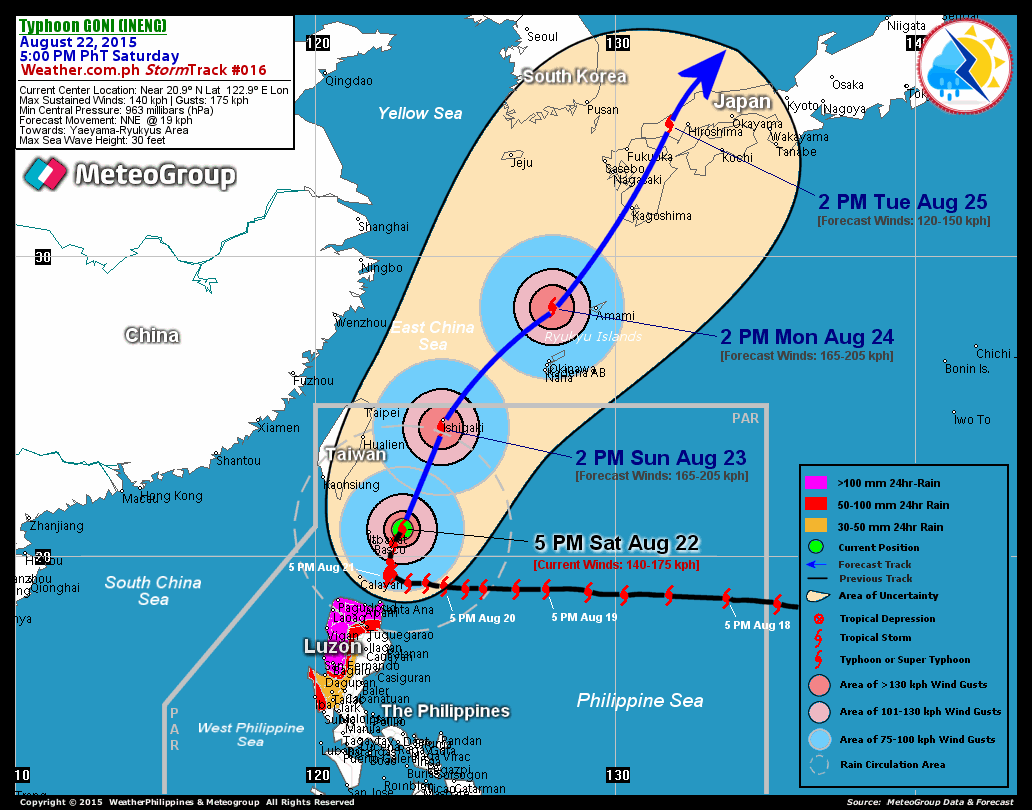 Typhoon Lupit has been steadily weakening as it apporaches the northern tip of Luzon. However it is also slowing down its forward motion. A lingering storm in any one area increases teh potential for flooding.
The analysis from
Weather Underground
is that the storm is floundering around between two weak steering currents. The concensus model appears to be that the storm is being slowly directed to the north. One track I saw almost indicates that the eye of the storm will pass to the north of the island. Even with a much more northerly track, the heavy rain will still impact the main island as well as all of the much smaller islands in the northern part of the Philippines.
The good news is that Lupit is barely hanging on as a typhoon. Dry air and interaction with land will break up the storm and it is expected to drop to tropical storm strength.
LUPIT is expected to continue decelerating further to just 2 kph while moving Westward w/in the next 24 to 48 hours. Its wind speed will slightly re-intensify as it moves closer near the coast of Cagayan. The 2 to 5-day Long-Range Forecast shows LUPIT still at a snail-pace motion as it begins turning WNW into the Balintang Channel, passing north of Cagayan on Monday until Tuesday (Oct 26-27).

*Alternate Forecast Scenario: There is a strong possibility that LUPIT might track abruptly Northward and recurve towards Southern Japan, sparing Extreme Northern Luzon. The probability of this alternate forecast remains high, as majority of various numerical guidance models depicts this scenario.

Due to the potential for Lupit to take a northern track, Taiwan is now going on alert in preparation for this storm.
At 11 a.m. Thursday, the storm was centered about 540 km east- southeast of Taiwan's southernmost tip of Eluanbi, moving at a speed of 9-5 kph in a west-southwesterly direction toward the northern region of Luzon Island in the Philippines, according to the Central Weather Bureau.

The bureau has forecast that the typhoon, which combined with the northeastern monsoon, brought rain to northern and eastern Taiwan Wednesday, will continue to bring wet weather to Taiwan until next Tuesday.

Although the storm is weakening, CWB meteorologists said it could change course Friday or Saturday and move in a more northerly direction toward Taiwan.

The bureau may issue a sea warning against the typhoon on Friday at the earliest if the storm changes its course and moves toward Taiwan.

Northern and eastern parts of Taiwan are expected to be most affected by the heavy rains which the typhoon is expected to bring to Taiwan in the following days.